>Some one elses work
>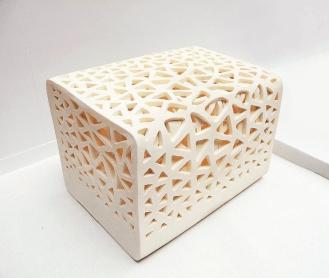 Great chair right? Hell if it wasn't a chair I still would like to have it around the place just for the texture. Here's a link to the page I found it on.
This isn't the first time I've seen a design like this it isn't even the 2nd, but it is the best. Look at that pattern and can you imagine how the layers of foam might feel.
I have no problem with it as a piece or as a functioning unit. I do have a little problem with this little train. Not because it's a small train but because it isn't a train at all it is just the top of a tube cut to look like a train.
So what I have a
with is the billing of it being a model train, even giving it's scale. Well if I went to get an N scale engine and it had no motor and was just a portion of the top of a tube. See hat I'm getting at? It is however great look at it, it's a little train that goes through a tunnel check out the video on the
link
. How ever if you go to the originators website they do say it is just the illusion of a train and not a real one.
In closing I really would like to get the formatting to listen to me and follow correctly. Tomorrow a write up of Problem 1 and an update on Problem 2.